Running out of space for your plants? Try going UP with these 25 chic DIY plant shelf ideas!
My name is Mia and I'm an alcoholic. Well, not really – but I do think I might be addicted to plants. My partner and I recently downsized into a swanky apartment, promptly had to sell half of our plants in favor of a rarity called floor space . . . And I have already started propagating the remains.
Although – in my defense – the plants we kept are straight-up baddies, so why would I not want to make more? I'm an addict, not a fool.
But anyways: DIY plant shelves. What we are here to discuss.
Those of you that trickled over from my old website may remember my love of handmade plant shelves and general storage solutions. I hacked the IKEA RUDSTA into an indoor greenhouse; used resin to create a faux marble DIY plant shelf and even hacked a coat hanger to make a stand for my favourite hanging plants!
Alas, in the move I had to lovingly rehome some of these pieces due to a lack of space. (The plant cabinet especially was rather large!) However, we have realised that we definitely need some kind of storage . . . so let's research some DIY plant shelf ideas together! Shall we get into it?
Oh – and don't forget to Pin your favorite ideas to come back to later!
1. IKEA Hack A Clothing Rail Into A Luxurious Faux Marble Rolling Plant Stand
Our first idea has to be an IKEA plant hack. I mean, how could it not be? If you love plants and use the internet, I'm sure you've been bombarded with all manners of creative IKEA plant solutions.
This is one (while a little labour intensive) is definitely one of my favourites. You can create something truly unique using resin and a little spray paint. Bonus points because this also has a rail you can use for your hanging plants!
If you enjoyed that tutorial, make sure you subscribe to me over on Youtube too!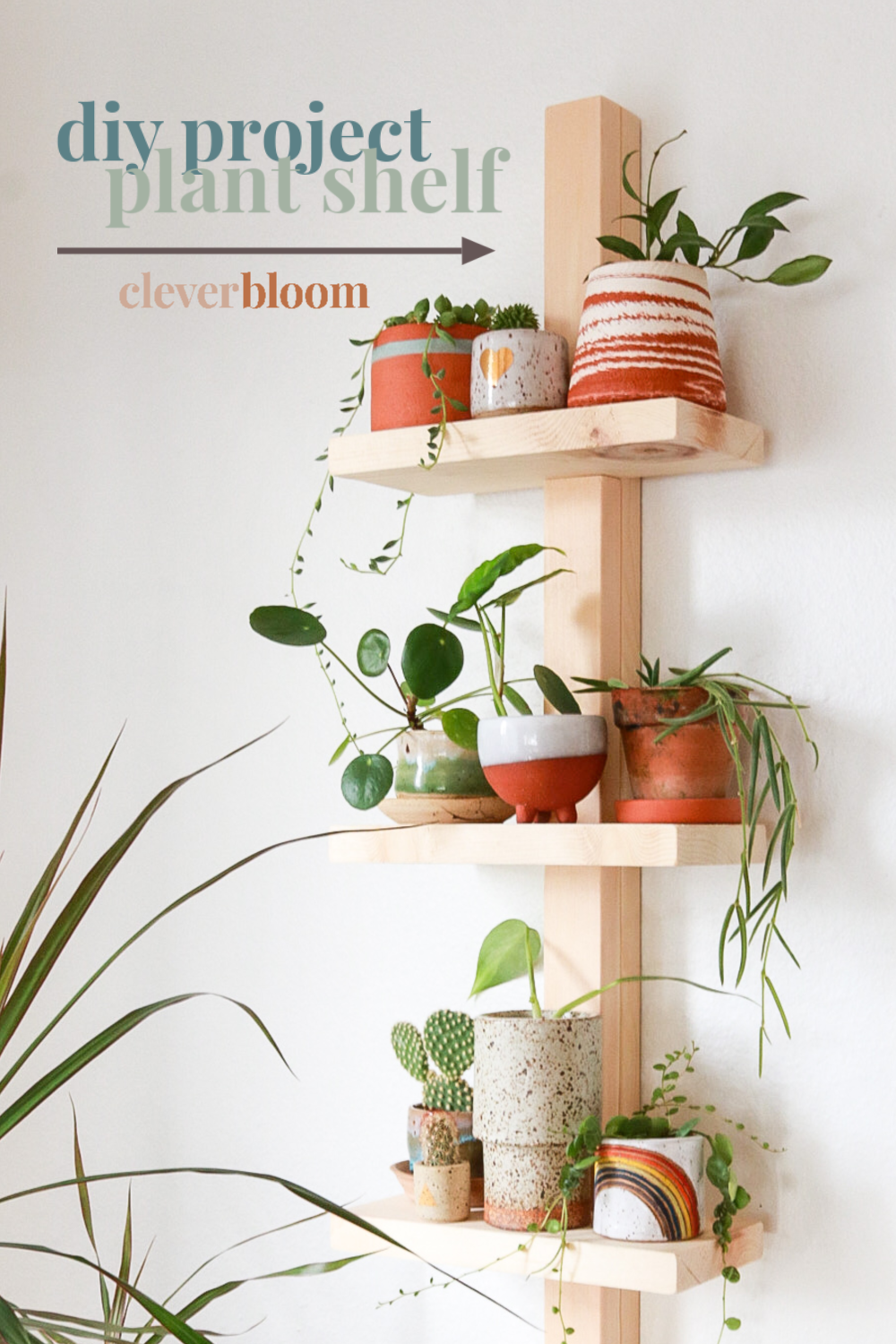 This modern plant shelf is super versatile and could easily be painted to suit any home decor scheme. Plus, it's surprisingly easy to recreate! If you're a fellow fan of the "shelfie", this DIY plant shelf is the perfect base for your Instagram shots.
I mentioned this in my DIY propagation station ideas post, but macrame is a skill I am determined to tackle next year. It's easy, low cost – and serves all the cute bohemian looks. A trend I am solidly here for. This floating plant shelf is adorable – and a very practical use of space!
One of the drawbacks to our old home (and largely why I needed to go to the effort of plant cabinets and the rest!) was that we got basically 0 natural sunlight. Our electricity bill ended up being massive due to needing grow lights, heat mats and the rest just to keep our rare plants alive!
Now, if you're having a similar issue in terms of lighting, this grow shelf is an utterly fabulous DIY solution!
Everyone and their mother has these shelves (at least here in Australia – KMART has our backs!) and this is such a fun use for them.
Oh, look, it's another self-promotion! Well, you are on my website so that's somewhat to be expected, right?
I'm a big lover of anything vintage or vaguely witchy – so last Halloween I created this quirky little curio cabinet to store my small plants. Is it super cute? Yes. Is it also incredibly easy to recreate? Of course.
7. Try Out This Trendy IKEA Hacked Greenhouse
Ah, the infamous IKEA greenhouse hack . . . how I love thee! We actually had to sell our cabinet when we downsized, but she kept our rare plants happy and healthy all winter. Plus, it wasn't too expensive to make! (And makes a mighty fine home decor piece!)
This DIY plant stand idea is a perfect way to upcycle an old ladder – and adds a touch of farmhouse chic to any room!
Can you tell that I love my IKEA hacks by now? I really do! That store should pay me for the free promotion at this point.
Their RASKOG bar cat has captivated the internet for years with its versatile range of uses. My personal favorite? A handy rolling garden. If you grow herbs especially, this could be a really practical kitchen addition!
10. Utilise Small Spaces With A DIY Bedroom Plant Shelf
How cute is this idea? I'm always looking for ways to add more plants to our bedroom as it's a pretty small space – and I think we've found the plan!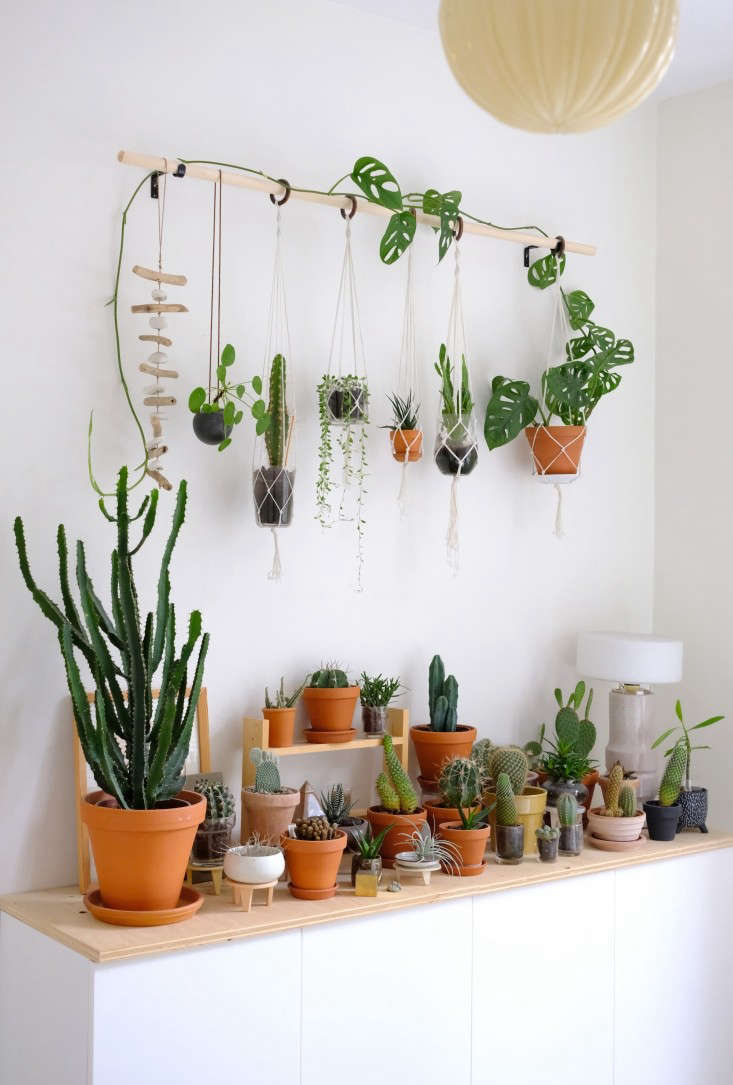 This thrifty plant shelf idea is perfect for hanging plants – and I'm obsessed with the entire plant shrine setup! I would definitely recreate something like this in our home.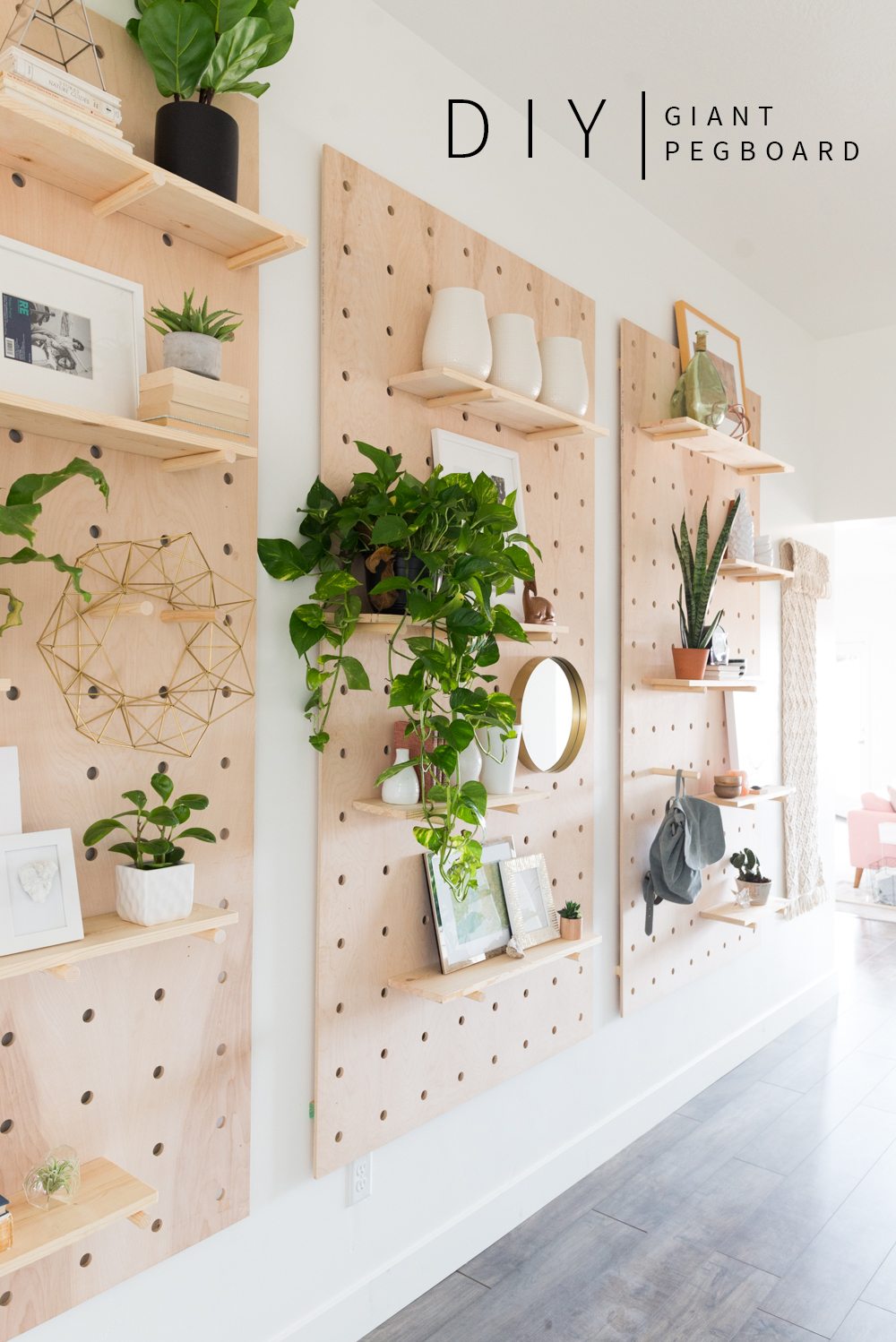 Our next shelf idea is perfect not only for plants, but just your general home! Pegboards are a really practical trend (especially for fellow crafters) but they still manage to look fabulous.
This is something I am determined to recreate in our kitchen – I have the perfect wall scouted out! Stay tuned my friends, you'll be seeing my own take within the next few months!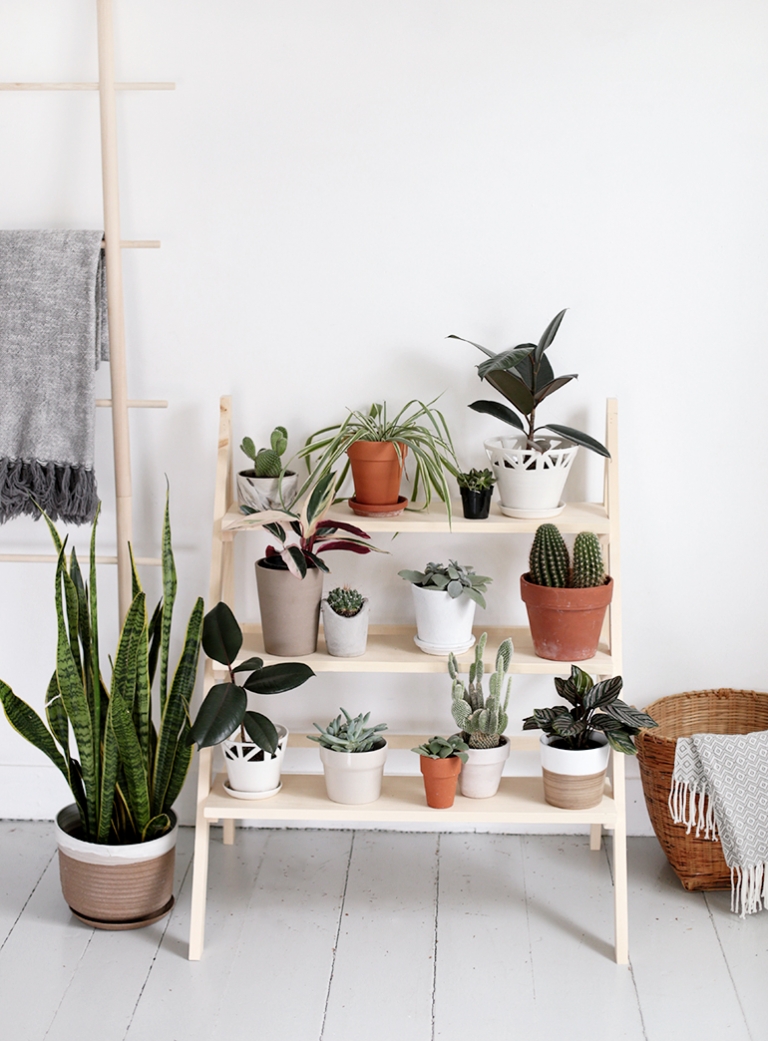 Let me tell you – I am forever impressed by people that assemble their own furniture out of wood. I vaguely remember one or two classes of woodshop, but that's about it! However, this simple step ladder shelf tutorial is so simple and easy to follow that I just might give it a try . . .
15. DIY Industrial Chic Plant Shelves
It's great that these can be built to slot into any space!
I feel like your Instagram is begging for it, honestly.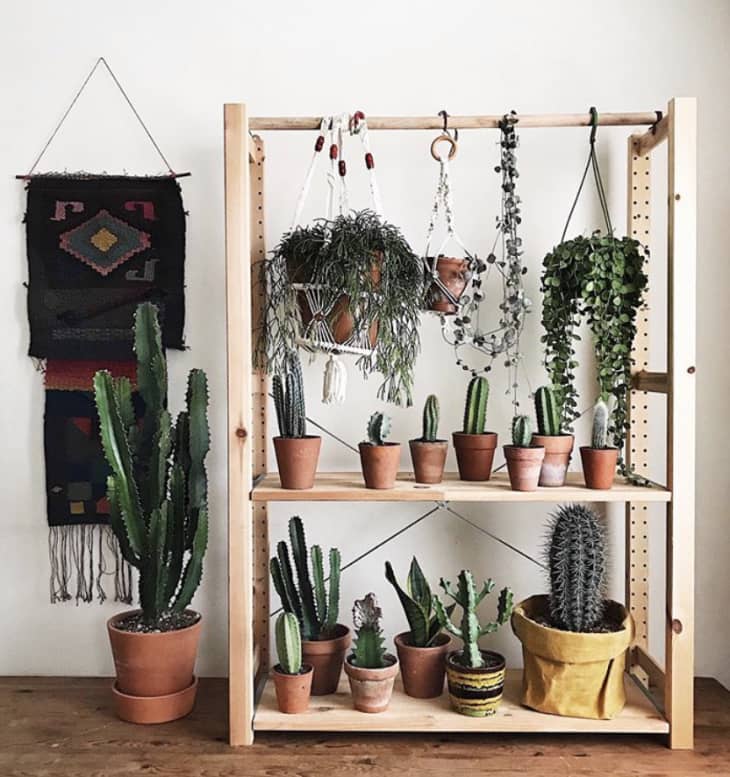 I know, I know – "Mia, I'm sick of seeing IKEA on this list; why don't you just move to Sweden already?". I can't help it – they're just so good. And affordable. And perfect for hacking to make cute plant homes.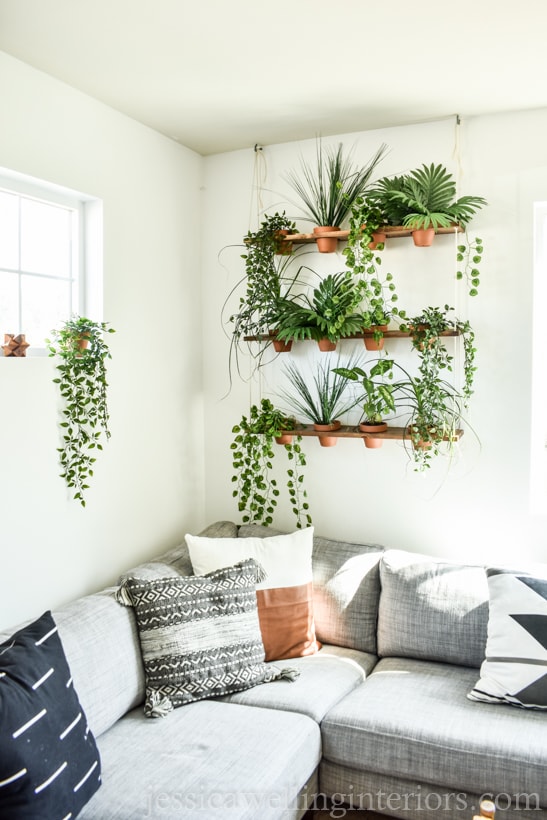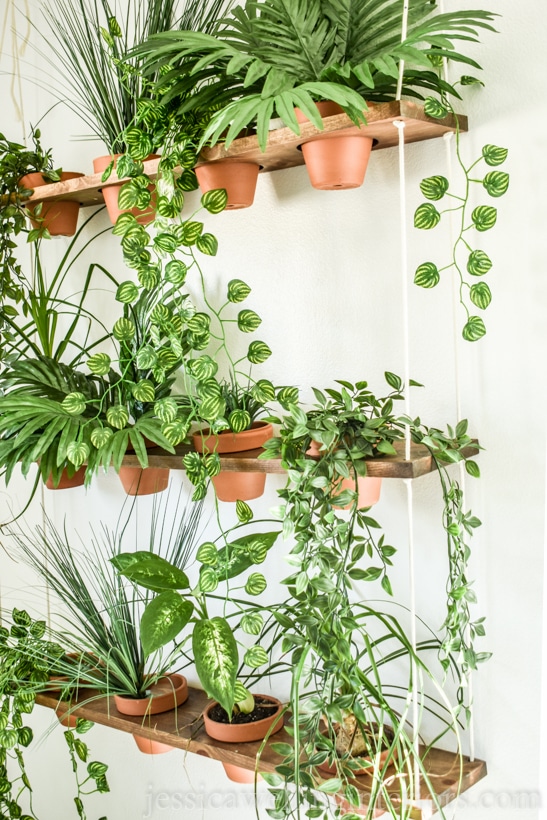 This plant shelf is actually somewhat sacrilegious as it's filled with…. artificial plants. (Gasp. The horror. I know – don't think it about it too hard, it'll be over soon.) I mean, it clearly looks fantastic though!
I still included it on this list because you could easily DIY the shelf and use real plants inside.
Also a chic way to display air plants, if you're into that kind of thing.
20. Try This Super SImple DIY Bookshelf Tutorial!
Making a bookshelf from scratch? Well, color me impressed! I wish I had the skill to make this bookshelf for my houseplants – but, alas, one of you will have to live out my dream for me.
21. Build Some Chic Wall Shalves To Fit Your Space
One thing I love about Youtube tutorials is how easy they are to follow; it's definitely more simple when you have a video guiding you along!
This is so cute – and (yes, I know I keep mentioning this) space-effective for smaller homes! I love that you could easily have this hanging over your TV or a chest of drawers.
23. Not Into Powertools? Try This Simple Cinder Block Shelf!
Okay, well kept secret time: I'm utterly obsessed with cinder block furniture. It's crazy inexpensive to make (think under $10!) and also typically very easy! This craft requires no power tools (score) but the final project is practical and stylish.
Admittedly, we've focused a lot on indoor DIY plant shelves – but our penultimate addition is perfect for any outdoor gardeners out there!
25. Want A Ton Of Inspiration? Here You Go!
Lastly, we have this video that is . . . honestly, it's just full of beautiful outdoor inspiration!
Okay, my friend, that is this list wrapped up. To tell you the truth, I'm impressed that you got all the way through this word count. My fingers are tired! Hopefully, you enjoyed this round-up of 25 DIY plant shelf ideas – if you did, don't forget to share it via Pinterest or any other social media. Which of these ideas was your favorite? Let me know in the comments down below!