One of the trends I love to cover on this website is the cottagecore / dark academia aesthetic. Not only is it adorable – but it features tons of my favourite home decor elements!
(And, yes, I get that cottagecore and dark academia are slightly different but I'd argue there's enough overlap – vintage, thrifted, dried flowers, etc. – for me to totally justify tying the two together for the sake of this post.)
It's no secret that I am an avid crafter; this blog is aptly named Mia's DIY Projects, after all! However, you don't have to be a DIY-addict to agree that cottagecore and crafts go hand in hand. The handmade vibes, the creative way to spend an afternoon . . . Nothing says "I live in a dainty cottage in the forest, free of the capitalist chains and air pollution of big cities" like spending your afternoon making something cute.
Today, I'm going to be sharing 50 stunning cottagecore DIY decor ideas to give your space a touch of whimsy. Let's get into it!
Watch My Cottagecore DIY TikTok Compilation!
First up, make sure you check out my DIY Tiktok compilation video! Alas, with the Canada move, I haven't had time to film anything long-form for Youtube recently. But you can keep up to date with my mini projects over on TikTok . . . or all in one hit below:
1. Upcycle Taper Candles With Dried Flowers
Pressed flower candles are a super cute dark academia DIY that you can recreate in 5 minutes or less! These look absolutely stunning with a vintage candle holder as home decor – but would make fabulous gifts too. Plus, with a set of taper candles only setting you back $9, this is wonderfully affordable.
If you want to keep costs down, you could press the flowers yourself – or be lazy like me and buy pre-pressed flowers online.
2. Use Air Dry Clay To Craft A Trinket Dish/Dried Flower Holder
Will I be uploading a separate tutorial for this dish in the coming weeks? Absolutely! But for now you can check out the sneak peek on my TikTok:
Air dry clay is such a fun, versatile and cost-effective crafting material. Plus, it's easy enough for total beginners to learn – and, unlike traditional clay, you don't need anything fancy like a kiln.
This DIY trinket dish is cute as a standalone item – but I personally love using it to display dried flowers. While the colour scheme I chose is likely more on the dark academia side of the scale, you could easily go for a pastel theme for the ultimate cottagecore vibe!
If you follow my blog, you may already be familiar with our next craft idea! Not only is this a cute home decor item (especially for the office) – it's also wildly practical. A thrift flipped photo frame that acts as a dry-erase board, you can create whiteboards for all your daily organising needs.
4. DIY A Chic Crystal Garden
The next addition to this list is a fun way to display crystals in the home – by creating a little garden! Not only is this a practical way to upcycle an old hamper, you can also dress it up with quirky collections like vintage ink bottles.
I am obsessed with thrifting cute frames and creating my own artwork for them. Not only is it a cost-effective way to decorate your home, it's also a creative hobby . . . and potential side hustle!
These cottagecore style doodles boasting veggie gardens and countryside mansions are an adorable addition to any room. (Plus, they're super easy to recreate!) You can check out how I drew them – and sold them on Facebook Marketplace – in my video below:
I am in love with these crafty DIY mirror frame! Such a gorgeous feature item – and so easily dressed up to suit each season. If you wanted to recreate this, you could even use dried flowers for a more rustic feel . . .
Okay, yes, this DIY was originally a festive one. But just look at how adorable these little ornaments are! It would be a crime to only show them off at Christmas.
8. Use Mini Opalite Mushrooms To DIY A Cottagecore Fairy Garden Terrarium
You guys already know how much your girl loves to use crystals in terrariums – but this faux fairy ring moss garden? It's the ultimate cottagecore cuteness! (And super easy to recreate too.)
The cottagecore aesthetic, to me at least, is synonymous with mushrooms. This handmade rustic wreath is serving all the woodland creature vibes – and I'm so here for it. (Plus, it's Animal Crossing inspired. And it's 2022; we all love AC.)
Willing to get a little messy and work with resin? Then you can create this stunning artwork! Boasting a dainty pastel colour scheme and – my fave – pressed flowers, this DIY wall art is wonderfully whimsical. I'd definitely make this as a DIY for a nursery actually . . .
11. Paint Dainty Little Mushrooms On Pressed Glass Frames
Another cheeky self-promotion! Painting onto pressed glass is one of my favourite hobbies at the moment.
I haven't quite mastered it enough to share a full tutorial with you all yet – but this little mushroom ring art idea turned out super cute.
Her 86m2 is one of my all-time favourite Youtube channels – she always shares such beautiful and high-quality content! Well. These beautiful DIY lampshades are the ultimate luxe dark academia addition to your home. I will most definitely be attempting these myself when I get to Canada!
Ugh, how adorable is this indoor plant garden? I love the weathered look of the wood panel at the bottom – and it's such a practical use of space! Definitely a project that's getting added to my to-try list.
14. Love Books? Upcycle An Old Box Into A Stunning DIY Cottagecore Divider
https://www.pinterest.com.au/pin/13792342600015122/
Does anyone else have a deep, un-ending love of book nooks? I can't help it – I'm literally obsessed with them. They're so adorable – and the perfect dark academia DIY to spice up your home library.
15. Use Dried Flowers To Create Stunning Herbariums
Herbariums are such a fun and easy craft project! If you have a garden at home, or enjoy drying flowers, creating herbariums is a brilliant way to preserve their vibrancy. Plus, you can get so creative with what you want to display them in – old alcohol bottles, test tubes, thrift-flipped glassware . . . Even old lightbulbs!
This craft is actually off of my old blog! If you followed me over on there, you'll be familiar with my obsession with thrifted photo frames. They just have so many creative uses! Well, one of my favourite ways to upcycle them? Into DIY flower drying boards!
Dried flowers make for perfect cottagecore home decor pieces. Rustic, dainty and feminine – what more could you want?
18. Use Transfer Paper To Create Gorgeous Custom Cottagecore Bags
Okay, this next craft is admittedly less home decor – but it is very cute! And it doesn't get any more cottagecore than literal seeds for your garden.
19. This Terrarium Is Stunning!
https://www.pinterest.com.au/pin/617204323941327691/
Ugh, isn't this terrarium the absolute cutest?
Enjoying this post? You'll love these:
20. Use Macrame To Make Adorable Propagation Stations
If you're a fellow fan of propagating plants and having them displayed around your home, this mini DIY macrame shelf is a must try. Pair with a vintage ink bottle for the ultimate vibe.
How adorable are these little mushroom ornaments? The pop of moss really adds a fairytale twist to them! This is another craft that was initially made for Christmas – but you could totally keep these up year round.
I remember when I first came up with this idea on the old blog! (And isn't it adorable?) It's another easy way to upcycle an old thrifted photo frame – and turn it into a stunning little trellis for your indoor plants!
23. Thrift Flip Cute Glass Bottles Into Large Herbariums
Is this technically cheating? Kind of – we definitely have already mentioned herbariums on this list. But this terrarium is bigger so it's different enough to warrant a spot on this list. (Plus, I share an easy and quick way to dry flowers in this tutorial!)
I am so obsessed with this DIY cottagecore home decor idea! Just look at it – it doesn't get any more whimsical than a literal woodland trellis with flowers hanging from it!
Wall art can get pretty expensive if you're buying prints new – so why not DIY some? These vintage style book prints are adorable and serve major dark academia vibes. I would probably keep the prints black and white for more muted colour scheme; how would you customise these?
Curio cabinets are such a fun way to display your cute collections, from
This tutorial shares how to make affordable – and adorable – faux vintage wall art to dress up your home. Personally, I think kitchens are an often-overlooked when it comes to home decor – but this print adds the ultimate cottagecore vibe!
Um, this project is getting added to my to-try list immediately! Buying apothecary-style drawers new is insanely expensive – so be prepared to see my recreation of this in a few months . . .
Our local thrift stores always have gorgeous vintage suitcases available for $5-10 – and this DIY desk is such a fun and practical way to upcycle them.
This is another fabulous dark academia DIY that would look stunning on any bookshelf! (Not to mention, it's super easy to make.)
Let me tell you right now – I am so recreating this when I get to Canada. My adoration of vintage ink bottles is well documented and this is such a cute idea for displaying them. Plus, you can pick up vintage ink trays for pretty cheap off eBay.
32. Use Vintage Ink Bottles As Adorable Propagation Stations For Luxe Dark Academia Vibes
*Cries in cuteness*
Moss mirrors are a staple of cottagecore room decor DIYs – and they have taken over TikTok. This recreation by The Sorry Girls is one of my favourites as it's small enough to add some whimsy to a room without overpowering it.
34. Create An Adorable Little Planter With Cardboard & Sticks
I cannot believe how creative this TikToker is! Making a whole planter out of sticks? What a flex!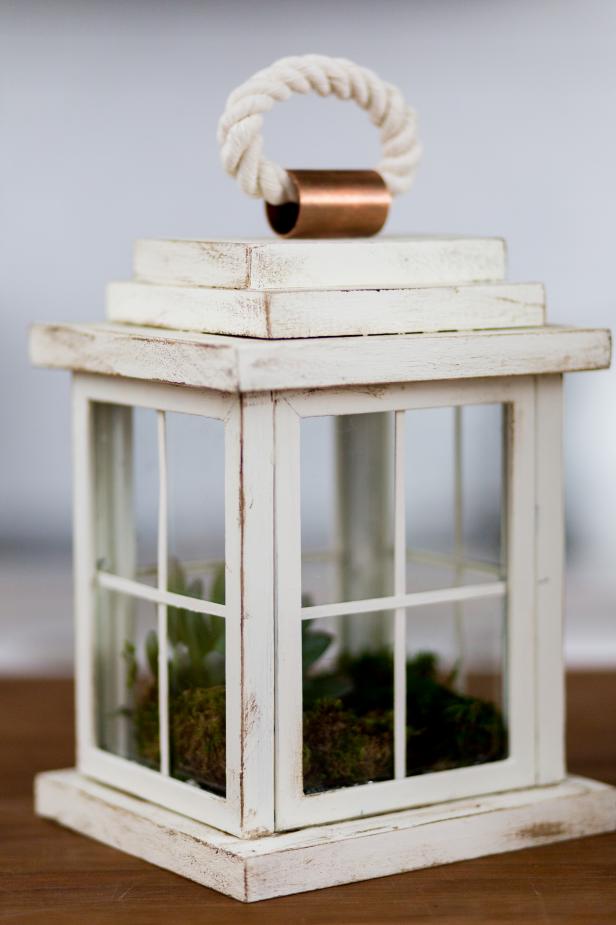 I love anything faux vintage because the real thing can cost an arm and a leg. This lantern is made out of photo frames (would you have guessed? I wouldn't!) but it looks so chic! You could even make a little terrarium out of it . . .
Okay, so the images on these candles might be a little spooky – but some vintage floral artwork instead? Vibes!
37. Ucycle Old Wine Bottles Into Dreamy Dark Academia DIY Candle Holders
Another fabulous upcycling idea!
38. For A Spring-Time DIY, Use Old Eggs For Mini Planters
41. Make This Adorable Necklace Holder
44. This Upcycled Earring Holder Is Serving Major Dark Academia Vibes & We LOVE!
48. This Tutorial Shares A Must-Know Trick For Turning Thrift Store Bric-A-Brac Into Gorgeous Faux Weathered Pottery
49. How Adorable Is This DIY Birdcage Lampshade?
Jeez Louise, that was a hefty post! I hope you enjoyed it, though, and found tons of inspiration for cottagecore DIYs to try out in your home. Let me know which one was your favourite in the comments below . . .