Wanting a new statement mirror for your home – but not wanting to spend half your paycheque on it? Relatable. Check out these 50 stunning DIY mirror frame ideas & projects to spruce up any room . . . on a budget.
If you're anything like me, your Pinterest room inspiration board is full of dreamy, ornate mirrors. Dream Mia has the funds for antique furniture (or, at the very least, Anthropologie's infamous Primrose mirror) . . . But reality Mia barely has the funds for IKEA most days.
Alas, visas and sub-par international education is expensive. Who knew?
Anyhoo – as we have now moved into our funky new apartment, I have thinking about all the affordable and cute DIY projects I can create. And one of the first things I want to tackle? Why, it has to be a statement mirror! So let's take a look at 50 stunning inspiration projects . . . and I'll get to planning.
Mirror painting is a pretty funky trend that's cropped up over the past few years. If you aren't the most skilled with a paintbrush, you can try my easy DIY mirror frame idea above. It's super simple to recreate with very basic brushstrokes – but the finished project serves all the adorable cottagecore vibes!
(And it works great for selfies on the 'gram!)
Want to learn how to recreate it? Check out my Youtube video below!
If you lovely people are familiar with my home decor style, you will already know how much your girl adores anything vintage or antique. They just have so much character! This tutorial is perfect for aging any cheap (or thrifted) mirror and giving it major Anthropologie dupe vibes!
3. Use Polymer Clay To Create This Trendy Mirror
https://www.pinterest.com.au/pin/2533343531829793/
I'm obsessed with the funky, modern trends that have been popping up all over TikTok in the past few years. They make me think of the 70s and fun. And we all need more fun in our lives post-COVID, right?
These simple clay DIY mirror frames are so easy to make – even for beginners. Definitely a must try!
When this next project popped up onto my Pinterest feed, I was shocked to discover it was a DIY. Yes, you heard that right: we can make this!
(Well, you can. I have no skills with power tools and probably wouldn't want to learn in an apartment building for my neighbour's sake.)
I am very deeply obsessed with the tile trend. I've got plans for a funky tiled desk coming up in the next few months that you're all going to love (trust me on this). However, for now, let's all lust over this crafty tiled mirror. Plus, it has a little shelf space – perfect for skincare products or funky candles!
After something a little less funky and more classic? Makes sense. This handy mirror project is perfect for any bathroom space – and, again, it features a practical little shelving option.
I know what you're thinking: what? Trust me, I was shocked too. It's a mirror . . . with plants. Now, we already know how much I love plants. In fact, let me promo some of my recent DIY plant posts below:
Oh, you thought I was a one-trick pony? Nope. We do DIY, plants, fashion and way more in this corner of the web.
Our next idea on this list is another cheeky self-promotion. (I know – I'm the worst!) You can use acrylic pouring paint to makeover old mirrors and give them a truly psychedelic and modern twist. I especially love the idea of taping the middle and using paint to create a marbled DIY mirror frame.
Want to try this for yourself? Check out my tutorial below:
It's easy to find cheap mirrors that are passably cute . . . but come in a weird color or just look a bit cheap. Using brass paint can give them a wonderful faux-vintage effect, though!
I won't lie – I was totally shook when I first saw this image. How is this mirror not store-bought? It's stunning!
However, it is indeed a DIY. So you can recreate it yourself!
Our next idea is definitely Instagram-worthy! (And saves you like $700 off buying the real thing…)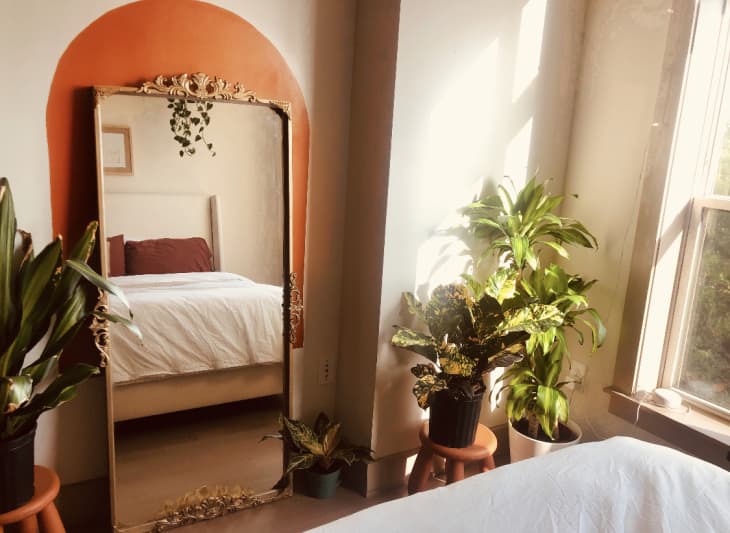 Next on this list is a simply fabulous IKEA hack that takes a cheap mirror and turns it into an ornate beauty. I'm so deeply in love with it – and I'm definitely going to recreate something similar myself!
As a not-too-avid user of TikTok, a lot of micro trends miss me. But the moss mirror one did not! This is a perfect witchy home decor piece – and super easy to make too!
Everyone and their mother loves rattan, especially for DIY projects over the past two years. (And, look, can't blame you. It's all the boho goodness!) This sunburst mirror is wonderfully trendy – not to mention, so affordable to recreate.
Wow – another must-try!
Do you guys remember how much the internet collectively gagged for the industrial mirror trend? I confess, it's not to my personal taste – but it's definitely a beautiful home decor project!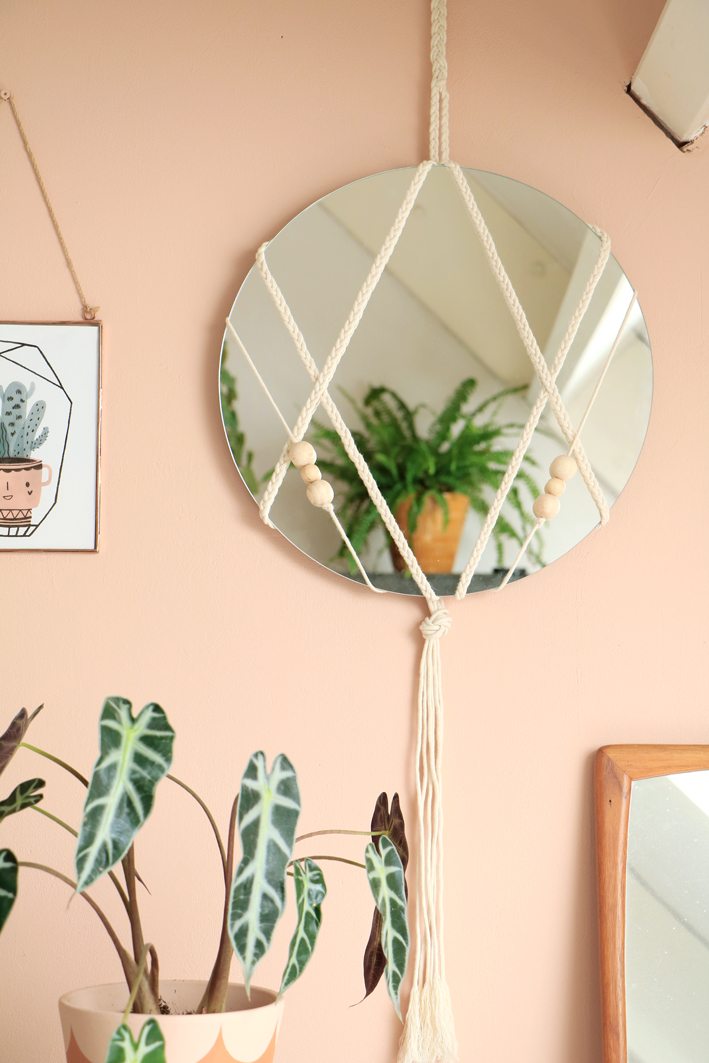 Macrame is another easy, boho-chic crafting trend I'm here for! If you're smart about where you source the supplies too, you could easily make this mirror for under $10.
Another fantastic addition to this list is a little all-in-one mirror bathroom console. This is perfect for keeping your bathroom essentials in one handy place – and bonus points for looking incredibly cute.
19. This Rattan DIY Mirror Frame Is Surprisingly Easy To Make!
https://www.pinterest.com.au/pin/1151936410908905666/
Another two-for-one special! This funky rattan mirror doubles up as a jewellery organiser – and is perfect for any entryway space.
When curating this post, I keep seeing tons of floral mirror frames . . . and hating them all. I know – you're shocked. So was I! I absolutely adore flowers and plants, so I thought they'd be a sure-fire way to my heart.
Alas, they all looked . . . tacky. Not this idea, though! This tutorial shows you how to create a stunning floral frame you'll want to display proudly.
21. Try These Quirky Clay Mirror Ideas
Clay is definitely having a moment – and I'm living for it!
22. Got Some Spare Wood Slats? Try This DIY Mirror Frame Idea!
https://www.pinterest.com.au/pin/1829656089510648/
I'm not even a beginner woodworker (as much as I would love to be!) but I think this project is so achievable!
23. Upcycle An Old Circle Mirror With Rope
https://www.pinterest.com.au/pin/1125968648557055/
This idea is absolutely stunning!
24. Paint Dreamy Clouds On Mirrors
Like I mentioned at the beginning of the post, mirror painting is a trend I'm completely here for. These dreamy clouds are such a vibe too! I might attempt this one myself to be honest . . .
25. Gustaf Westman Curvy Mirror Dupe!
I am so beyond impressed with how this turned out! Can someone convince my boyfriend to learn how to use power tools please?
26. On A Budget? Here Are Some Stylish DIY Mirror Ideas To Try!
You already know that I'm all here for budget-friendly options!
The moon-mirror trend is one that popped up last year – and I think it's such a cute addition to a witchy room.
28. Use Wood As Rustic Mirror Holders
https://www.pinterest.com.au/pin/476607573073531576/
Another super cute and achievable DIY mirror frame idea!
We've not spoken about crystals much yet on this website – but I'm freaking obsessed with them. I think they're so beautiful – and this mirror is a fabulous (and practical) way to display them.
30. Another Cute AF DIY Rattan Mirror (That Lights Up!)
https://www.pinterest.com.au/pin/1054123856501614243/
This quirky mirror is so stunning. I'm genuinely shocked to see it was a DIY – especially when you see the inspo mirror image (and price!). Such a fabulous craft.
Another funky way to display crystals in mirrors!
Confession time: I loved this craft so much that I had to forward it to my mother for her to make at home. If D and I still lived in our old place, I totally would have made this for my office. Unfortunately, our new place is a little too modern for this to work. But it's still absolutely gorgeous!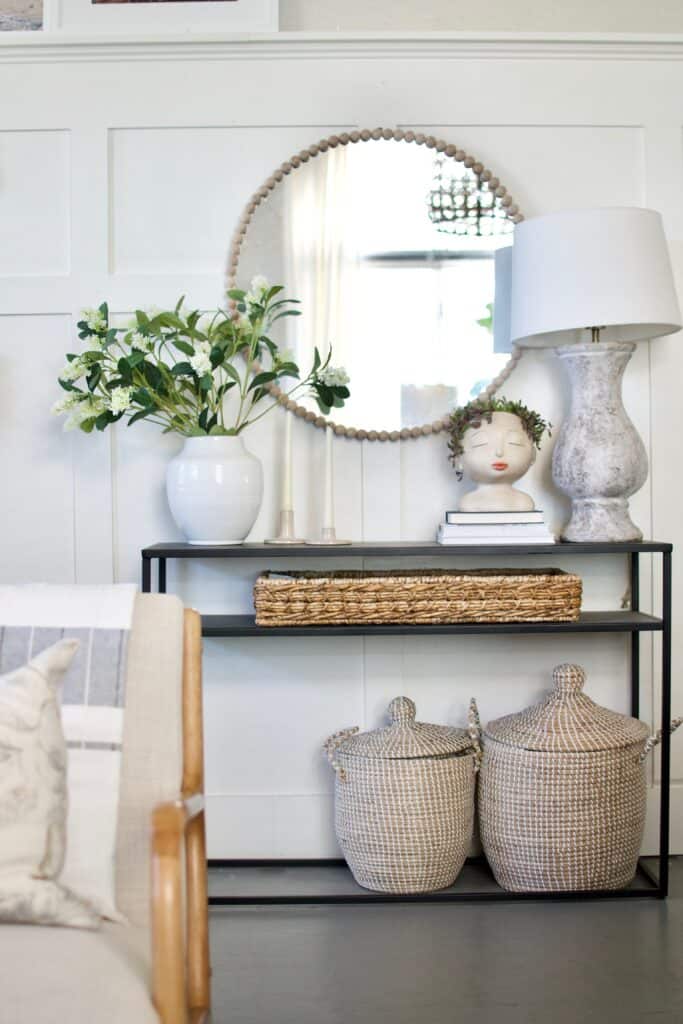 New to crafting and fancy an easy intro project? I think I've got just the thing!
Again: how was this not storebought? So cute!
Beautiful and beginner friendly, this tutorial shows you how to DIY a mirror frame using macrame – and just look at how gorgeous the finished project is!
37. Minimal Tiled Mirror
Love the tile trend – but want a more minimal approach? This might be the one for you!
38. Punch Needle A Dreamy Psychedelic Mirror!
39. This Terrazzo Arch Mirror Is A Perfect Urban Outfitters Dupe!
Tina Le is forever one of my favourite Youtubers – and her super chic mirror is a must-try for sure!
I've seen a lot of tutorials attempting to DIY dupe the Anthropologie Primrose mirror – but this one is definitely my favourite!
This is super easy and fun idea!
42. The Ultimate Wavy Mirror – With NEON Lights!
Okay, yep, this is definitely the winner of this list (for me at least!). I cannot believe how cute and achievable this DIY mirror is? Like what? I'm trying it. Most definitely.
Another absolute winner is this funky tasse trim mirror. I love the colour of this – I even think a kind of ombre effect could be cool!
44. After A Funky Statement Mirror Minus The Power Tools? Try This DIY!
https://www.pinterest.com.au/pin/291115563423231905/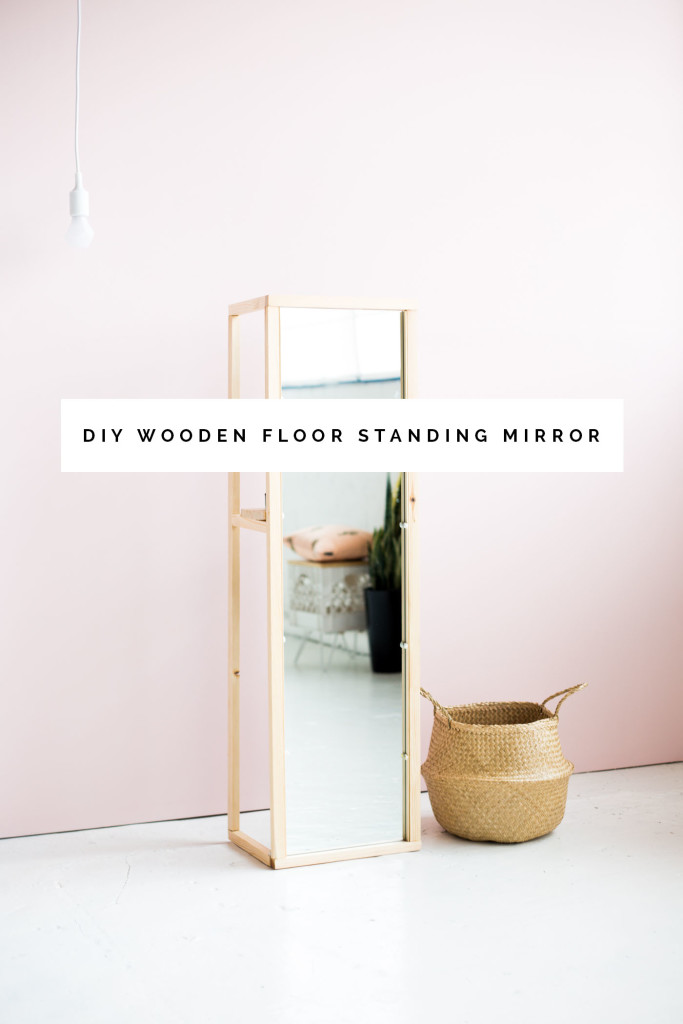 For a more timeless DIY mirror frame, try this on for size. It's perfect for utilising space in smaller apartments too as it has a handy shelf! You could even install racks for hanging clothes off.
46. Add Neon Backing To A Mirror
https://www.pinterest.com.au/pin/682717624761573870/
Neon is a super fun trend that's popped up over the past few years – and this is an easy DIY way to incorporate it into your home.
Bone inlay is so ebautiful – but eye-wateringly expensive. A great way to DIY-dupe the look is by using stencils. I mean, just look at how this project turned out!
Another impressively practical use of space!
Using tassels as a DIY mirror frame is such an easy (and cost effective!) way to add a pop of colour to a room.
Our last addition to this list is a fun burst of colour and positivity for any room!
Well, my friends, we have well and truly been fed a healthy dose of crafting inspiration with this list! Are you inspired to try any of these out yourselves? Which was your favourite? Let me know down below!