A curated list of 36 stunning IKEA Billy bookcase hacks you simply have to try! From arched bookshelves to faux built-ins, all of these are must-sees!
I am utterly obsessed with IKEA hacks. You all know this by now. Taking a cheap and easily accessible piece of furniture and upgrading it into something cute? Sign me all the way up.
One of my current favourite pieces to "hack" has to be the BILLY bookshelves. Not only are they inexpensive – but the possibilities are genuinely endless! I've shared my own take on the BILLY bookshelf with you all before; today, let's take a look at 50 of the internet's chicest IKEA BILLY hacks . . .
I couldn't mention my favourite BILLY makeovers without sharing my own, could I? I'm still obsessed with this faux-ceramic arched shelf makeover – and it's so beginner friendly. No power tools or specialist knowledge needed!
Want to see this in action? Make sure you check out my room makeover video and subscribe to me on Youtube!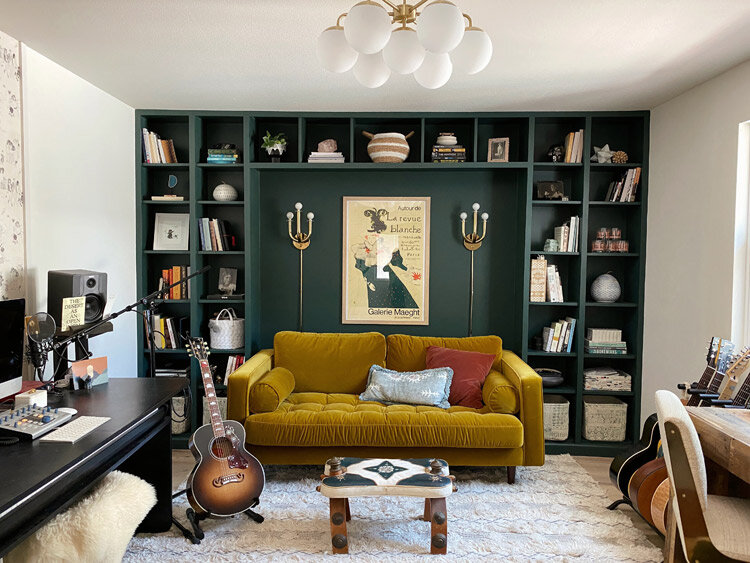 Okay, so I'm obsessed? The dark green of the bookshelves is so chic and makes for a stunning accent wall.
This hack is so insanely clever – and great for small spaces that don't boast a ton of storage. My best friend and I are planning to move into a smaller apartment in a few months, so I'm definitely saving this idea to try out later.
There are so many reasons I love Alice and Lois' take on the Billy bookshelf. One: the doors? What a fun idea! And two: rattan? Ugh, what a bohemian dream! The final product looks so expensive; I'd totally believe it was from West Elm or Pottery Barn.
A library wall with a rolling book ladder? Can it literally get any better? I'm willing to bet no.
6. These Arched Bookshelves Are Totally Insta-Worthy
I was genuinely so shocked that these stunning built-ins are DIY-ed. Don't you think they look so luxurious and professional? For the tutorial on these beauties, check out @mygrandparentschair on Instagram below.
Far be it from me to enjoy gray, but this gorgeous hack might make a convert out of me! The neutral tone chosen is perfect for most spaces – and the touch of cane webbing adds a touch of warm boho flare.
This has given me major inspiration! I love the almost vintage look of the sconces – and it's such a fun idea to have lights highlighting some of your favourite books or items.
Again, your girl is shook. How is this showroom of a home made from IKEA Billy bookshelves? It does not compute in my brain.
This is another clever hack that is perfect for making the most out of a small space. Not only do you create an affordable kitchen unit – but just look at how much storage space there is. Perfect for apartment living!
11. Unfortunately No Tutorial Available
Alas, I couldn't find a tutorial for this project – but the finished photos are great inspiration!
I'll admit – a lot of these bookshelf hacks are a project. However, our next option is super achievable for any budget or crafty skill-level. All you need is a roll of patterned vinyl – and you can pick those up from Amazon for under $10!
This next bookcase makeover is so chic! I honestly never would've picked this pattern myself, but looking at the final project? I just love it!
If you're looking for a practical use for your old bookcase, how about converting it into a pantry? I never would've thought these cabinets were a DIY – they look so professional!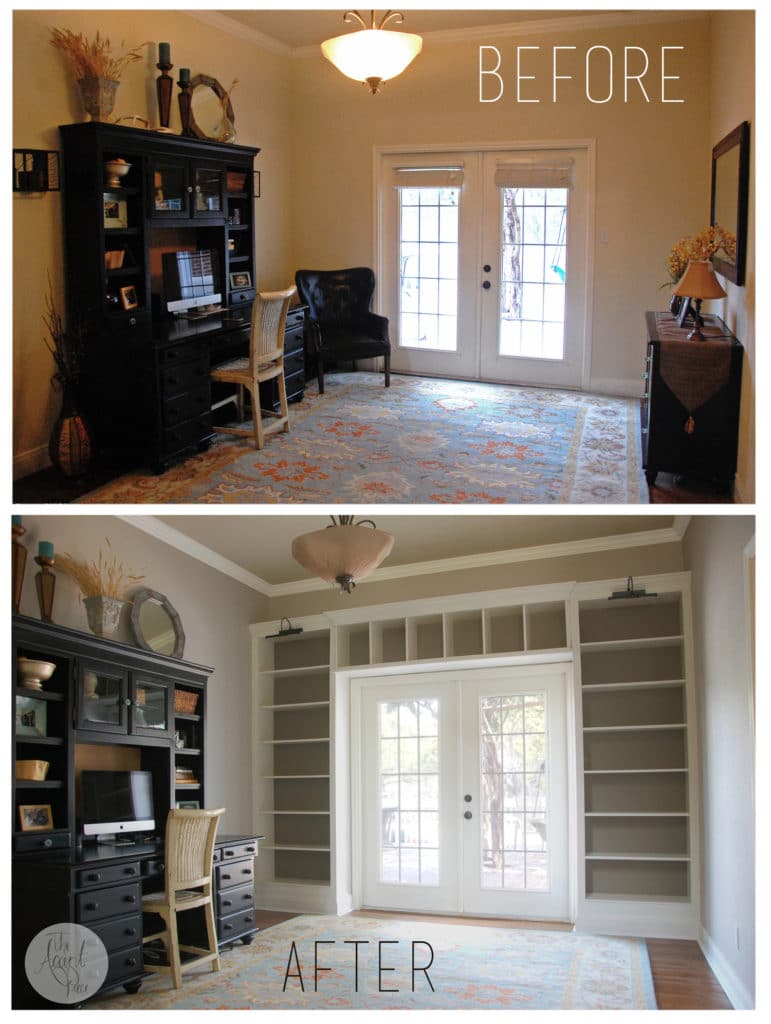 The farmhouse vibes of these faux built-ins is absolutely stunning. I think it elevates the space so much – and the sagey grey? Such a great colour choice.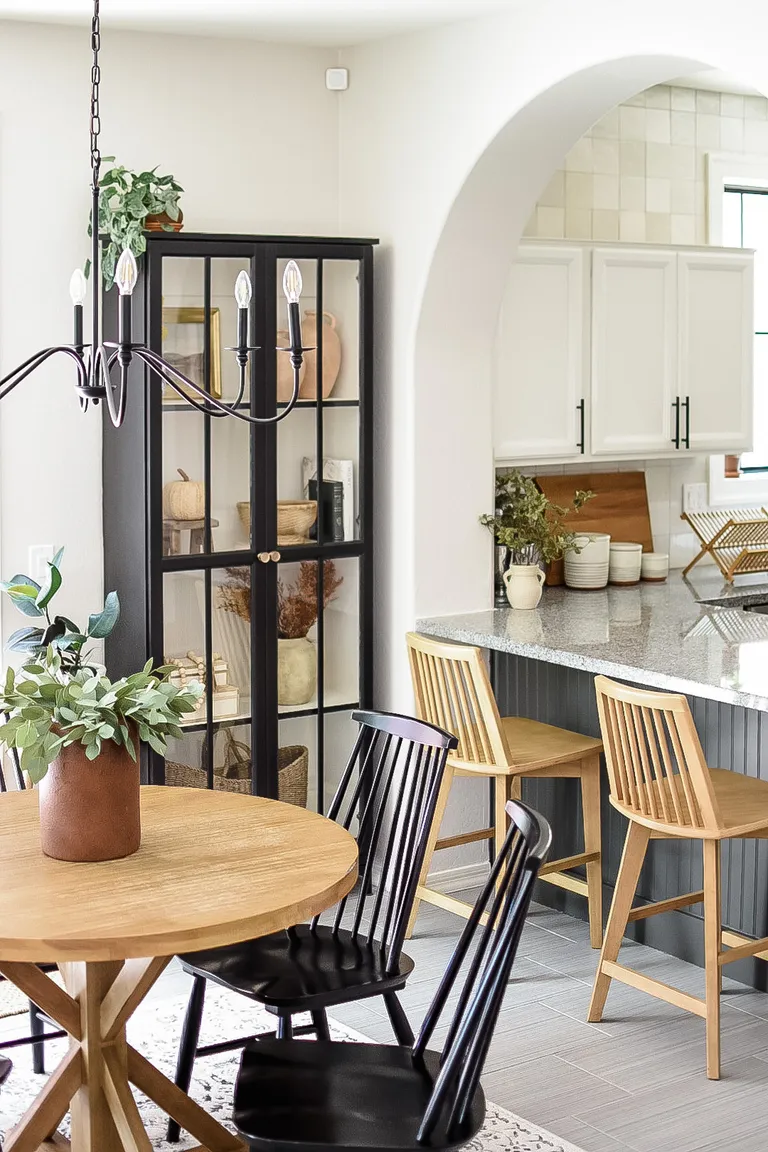 Let me tell you, I am obsessed with this stunning makeover. It takes the Billy bookshelf and elevates it to something far more high-end; in fact, I want to recreate something similar in a sage green tone.
One of my favourite trends has cropped up again! I absolutely adore library ladders and think they're just utterly cute.
18. Check Out Lone Fox's Take On The Boho Trend
Love boho home decor? Me too! Lone Fox always created the most chic, high quality DIYs – and this cane storage hutch is no exception.
19. Add A Fun Pop Of Colour To Your Home With Arched Bookshelves
I'm honestly obsessed with the colour combination of this arched bookshelf! It would be so fun for a home library . . .
Enjoying this post? You'll love these ones too . . .
The muted tones and curved doors of this cabinet are honestly giving me life. I could see this easily being sold somewhere like Pottery Barn for a ton of money.
21. Go Industrial With This IKEA BILLY Hack
There are so many fun ways this cabinet could be styled!
22. Another Creative Pantry Idea
If you're a fellow video lover, make sure you don't miss this Youtube tutorial on creating a fabulous pantry.
23. Want A Fun Way To Makeover Your Home Office? Check Out This Leopard-Print Beauty
So dang cute.
Genuinely so stunning.
25. Create A Healthy Snacking Station!
https://www.pinterest.com.au/pin/117375134027569194/
26. This Stunning Time Lapse Shows How BILLY Bookcases Can Elevate A Space
https://www.pinterest.com.au/pin/692709986443953513/
27. Create A Dreamy Bar Cabinet
28. This TikTok Shares How They Used Billy Bookshelves To Create A Hidden Narnia Closet
29. How Stunning Is This Set-Up?
30. A Clever Idea Is To Repurpose The Billy Bookshelf As A Shoe Rack
31. Got Any Cute Collections You Want To Show Off? Try Creating This Stunning Faux-Ceramic Niche Wall
32. Cleverly Placed Vinyl Wallpaper & Shelf Lighting Add Final Touches To This
33. Burlap Roll Gives The IKEA Billy A Bohemian Vibe
34.Want Your Home To Look *Expensive*? Try Out This Hack
35. Obsessed With The Sage Green Finish Of This!
36. Prefer Cottagecore Home Decor? This DIY May Be For You!
Alright, my friends, we shall end at the end! I hope you enjoyed this roundup of fun IKEA BILLY hacks. Don't forget to share this post if you found it helpful – and drop a comment down below!